8/16/24 Channel Scanner/Protection Relay cum Data Logger 85XX+ LANDING PAGE
8/16/24-Channel Scanner / Protection Relay cum Data Logger 85XX+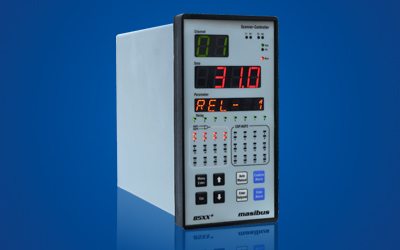 Masibus Manufacturer of 85XX⁺ Multichannel Temperature Scanner which is an upgrade on the most successful model 85XX Temperature scanner.
Modular and Expandable Temperature Scanner
85XX⁺ Temperature scanner is modular in architecture and Expandable Data Acquisition module, 5 I/O slots can accommodate a Universal Analog Input, Digital Input, Open collector output, Analog output or Relay output. All field Connections are wired by Pre-Fab cables
Fully Configurable Temperature scanner
85XX⁺ is configured using the mSCAN⁺ software & front keyboard. The unit has numeric and alpha-numeric displays for value and tag display. Alarm/Trip/control status are displayed by discrete LEDs on front fascia.
Temperature scanner comes with Multiple Communication Ports like RS485/Ethernet/USB/ProfibusDPV0
Temperature scanner has Alarm Control feature using Comprehensive Alarm/Trip logic
Temperature scanner has Isolated Retransmission output for PLC/DCS/Recorder/SCADA
Features
Compact and Rugged
Alpha-Numeric display for programmable tag no / Engg unit
EMI/EMC Type test qualified & CE Marked
8 Channel Universal Analog Input Module
16 Channel Digital Input Module (Optional)
4/ 8 Relay Output Module (Optional)
24 Open Collector Output Module (Optional)
Analog Output (Optional)
Fast sampling and generation of Alarm/Trip
User free mapping of Relay to Channels
Comprehensive alarm/trip logic
RS485 Serial port (one standard and 2nd Optional)
1X Ethernet port (Optional)
1X USB port (Optional for logged data retrieval)
1X Profibus-DP port (Optional)
Modbus RTU over serial and Modnet over Ethernet Protocols
Windows based free mSCAN⁺ configuration software
Datalogging option
Extruded Aluminum Chassis with IP55 front fascia
Applications
Electrical Substation Monitoring
BusBar Temperature monitoring in LT-Distribution Panel
Motor/Generator Winding & Bearing temperature Monitoring and Protection
Transformer monitoring and protection
Monitoring of Air compressor, pump, transformers, fans and blowers DG set temperature monitoring
Asset Monitoring
As a Serial/Ethernet – SCADA RTU
Multi Point On/Off control
Heat Treatment: to achieve desired result of hardening or softening material
Metal and mining applications
Machine condition monitoring
As a distributed Remote I/O module for PLC/DCS/DAS etc
Industries
IIOT Industry 4.0
Power
Metal
Water
Panel Manufacturing
Chemical
Food
Paper
Pharma
Sugar
Heat Treatment