Large Display Indicator 408-2IN
Large Display Indicator 408-2IN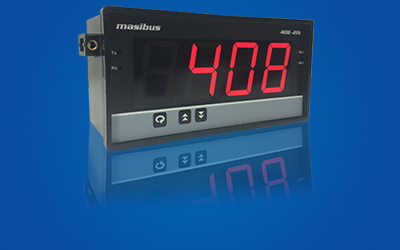 Masibus 408-2IN Indicator cum Controller has bright seven-segment 1.8" LED display for process value that can be monitored upto a distance of 20 meters. It has status LEDs for set point indication.
Model 408-2IN accepts major industry standard inputs like RTD, thermocouples, mA, Volts etc. It provides two relay outputs to perform various control and alarm functions. Intuitive configurations with three front keys ensure easy programming. Process value can also be retransmitted to remote devices as standard current/voltage signals. Data acquisition can be done on SCADA/PLC applications through RS485 communication for further process automation.
Masibus 408-2IN model is designed using proven micro-controller technology. These controllers have been validated to perform accurate and reliable performance, reliable control for various process applications. Alarm can be configured for two set points which are indicated on front Status LEDs. This Indicator has SMPS power supply for smooth and reliable performance. It is also equipped with transmitter power supply.
Masibus 408-2IN large display temperature indicator, Large display process indicator is suitable as remote display application.
Features
Universal Input (TC, RTD, Volts, mA)
Bright Red seven segment
Status indication LEDs
Display brightness control
Transmitter Power Supply
Accuracy: 0.25% of FS for TC & RTD Input /
0.1% of FS for Linear Input
Fail-safe design protection the power in case of system malfunctioning
Relay Output
Retransmission Output (Optional)
RS485 Modbus Communication Output (Optional)
Applications
Temperature and process indication
Pressure/ Level/ Flow Monitoring
Plastic molding/extrusion temperature monitoring
Heat treatment – furnace temperature monitoring
Weighing Platform
Remote Process Supervision