Multifunction Meter PM 2140
Multifunction Meter PM 2140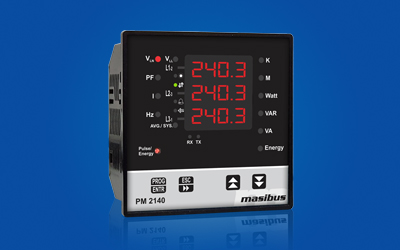 Masibus PM2140 Digital Power meter is an easy-to-use, low cost electrical panel meter that offers all the basic measurement capabilities required for monitoring an electrical installation.PM2140 power-meters has 3 Line 4 digit bright 0.4" LED display for superior readability in poor lighting conditions. Phase wise parameters display has been provided along with various LED indications. PM2140 is available in flush panel mount enclosure having front panel keys for easy set up. PM 2140 EnergyMeter has Class 1.0 accuracy as per IS 13779/IEC 62053-21 for Energy and better than 0.5% accuracy for basic instantaneous parameters.
The CT/PT ratio and installation type is site selectable, making the meter possible to be used in various types of three phase installations. More than a basic metering, it provides RS485 port with Modbus-RTU protocol as a standard feature & Relay/ Analog output as optional features. PM2140 Multi-Functional Power Meter provides all the basic electrical parameter measurement along with Minimum, Maximum logging, Isolated Relay Output with alarm indication can be set for measured input parameter or Analog Output like 4-20mA or 0-10V DC option.
PM2140 provides energy measurement along with Power Interruption Count, ON hour & RUN (Load) Hour, thus helping to measure and control energy cost. Meter stores energy and programmed parameters into its non-volatile permanent memory.
Features
Energy accuracy class 1.0 as per IS 13779/ IEC 62053-21
Better than 0.5% accuracy for instantaneous parameters
Compact flush panel mounting.
Field programmable CT/PT ratio.
True RMS measurement.
Ultra bright 3 line 4 digit LED Display 0.4" for PM2140 with auto scaling capability.
Universal power supply.
Optional Relay / Analog output.
Isolated RS485 (Modbus-RTU protocol)
4 keys for configuration.
Password protection for set parameters.
Permanent memory based energy storing along with other parameters like ON Hour, LOAD HOUR and Power Interruption Count.
Applications
Electrical panels
Energy Management System(EMS) & Energy audit
Distribution systems
Process monitoring and interface with PLC / SCADA / RTU
HV & LV switchgear panels
Control & Relay Panels
Motor control center panels
Power control center panels
Process control
Original Equipment Manufacturers (OEMs)
HVAC & Building management system
Remote monitoring of electrical panels
Industries
Power Distribution industries
Cement Industries
Chemical Industries
Metal Industries
Paper Industries
Sugar Industries
Ceramics Industries
Paper and Pulp Industries
Panel Builders