Time Distribution Rack TDR-4
Time Distribution Rack TDR-4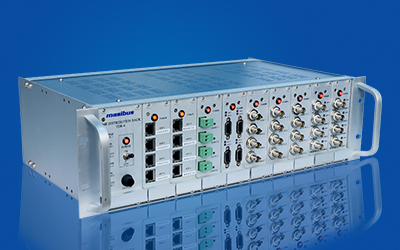 Masibus TDR-4 Time Distribution Rack amplifies input signal which is connected on rear side and distributes via different timing outputs. Time Distribution Rack (TDR-4) accepts signals like 1PPS, IRIG-B TTL, IRIG-B Modulated, NMEA (RS232) and Event from GPS and gives four isolated outputs of each signal same as input.
Time Signal Splitter TDR-4 is housed in a compact 19'', 3U rack mounted package. It has nine output card slots and one power supply card slot. Each output card has 4 outputs thus maximum 36 outputs of different or same type possible in single TDR-4
Time Signal Splitter TDR-4 has High Intensity LEDs on each card to shows the power status of the card and four numbers of isolated outputs signal status. All the inputs are connected on the rear side & all the output signals are on the front of the equipment.
Time Signal Splitter TDR-4 has flexibility to choose from six different output cards 1PPS, IRIG-B TTL, RS232, RS485, IRIG-B Modulated, NTP and Event. Any signal output card can easily be inserted into any signal card slot excluding Power Supply Slot. If user requires more than four numbers of outputs then user has to insert another same type of the card in any slot of the TDR-4.
Time Signal Splitter TDR-4 has also facility to interface redundant GPS incase of any failure occur with the first GPS.
Features
Timing Signals accepted from GPS:

1PPS
IRIG-B Modulated
IRIG-B TTL
NMEA (RS232)
Event

Six Different types of output cards in single rack
Max four outputs per card.
Any card can be inserted in any slot
Total 36 outputs available from single rack
Compact 19", 3U Rack mount enclosure
Facility to interface redundant GPS Clock
Applications
Electrical utilities:

Generation
Transmission
Energy and Demand monitoring

Distribution Interface with SCADA/RTU/ Relays
ABT metering
EMS system