String Box Monitor SBM-S-1225
String Box Monitor SBM-S-1225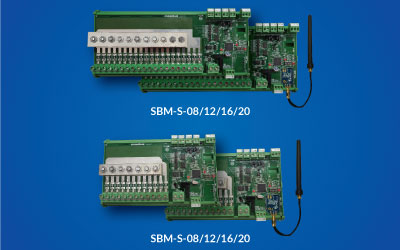 Masibus Manufacturer of solar String current monitoring Model SBM-S-1225 which precisely measures string DC currents using DC shunts, Voltage and RTD sensors for temperature of solar PV system.
Continuous monitoring of solar PV DC side helps detect loss of power and/ or efficiency and immediate rectification of faults. SBM can monitor up to 8/12/16/20 individual string current (25A), 1 string voltage (1500 VDC), 2 RTD sensors and 2 DI inputs.
solar String current monitoring unit comes in a compact open frame DIN module with built-in shunts for string current measurement. String Box Monitor has one onboard temperature sensor for continuous measurement of cabinet temperature. String Box Monitor has upto two isolated RS485 port with Modbus RTU protocol that can be configurable as independent or repeater for daisy chaining, wherein 2nd RS485 port is optional. Front panel DIP switches help set the device ID and discrete LEDs provide diagnostics and status information.
String Box Monitor also has an option of wireless Zigbee protocol in lieu of 2nd RS485 port, where in it will communicate with Masibus wireless Communication Processor and transmits data to it.
String Box Monitor is generally installed in String Combiner Box and forms the part of SCADA or Data Acquisition System.
Features
8/12/16/20 analog input channels for current with built-in shunts
String Voltage Input: 0-1500 VDC
2 Temperature inputs for RTD sensors
2 Digital inputs
1 on-board temperature sensor
Calculated DC Power
RS485 port (Modbus RTU protocol)
Wireless Communication over Zigbee protocol (Optional in lieu of 2nd RS485 port)
Compact Din Rail Mount
Diagnostics and status LEDs
Applications
Precise monitoring and detection of string failures
Monitoring of PV cell power generation
DC current monitoring of Solar PV strings
Operations and Maintenance tool
String monitoring for Photovoltaic (PV) systems
Monitor key panel performance and production parameters
DC module for Smart combiner box manufacturers
Monitoring of solar PV string current, voltage, SCB box/panel temperature, etc.
Monitoring the status of DC Disconnector/ Isolator and SPD