HMS Networks is the leading independent supplier of solutions for industrial communication and the Industrial Internet of Things.
At HMS, we believe that connecting matters, in everything from making devices, machines and systems talk, to engaging actively with our customers. Our state-of-the-art technology connects millions of industrial devices all over the world – in automation systems as well as in innovative IIoT applications.
Ewon is a product brand of HMS Networks, the leading independent manufacturer of products for industrial communication. Ewon operates as a Business Unit and is based in Nivelles, Belgium.
HMS Networks' solutions, including Ewon's, enable valuable data and insights for industrial machine builders & users, allowing them to increase their productivity and sustainability.
Ewon's value proposition consists in three pillars
Ewon's dedicated team of remote connectivity experts focus on three key value propositions, which summarize Ewon's solution offering:
Effective & sustainable remote access.
Proactive remote monitoring.
Data integration for third party applications.
These three main values enable Ewon to accomplish its mission: making it possible for its customers to easily, securely, and efficiently access their machines anywhere anytime to enable information and insights.
Effective & Sustainable Support of Machines
The Cosy is the new generation of industrial gateway, resulting from the implementation of the most advanced security technologies in hardware devices.
Benefits of Ewon Cosy
Easy setup
The Cosy is designed for a quick deployment and successful connectivity, while ensuring that the setup doesn't require any advanced IT knowledge.
Suitable for any situation
Along with our devices, our solution includes the Talk2M industrial cloud service, as well as its desktop, mobile and web clients – all free of charge.
High level of security
The Cosy integrates an unprecedented level of hardware security, making it perfectly future-proof.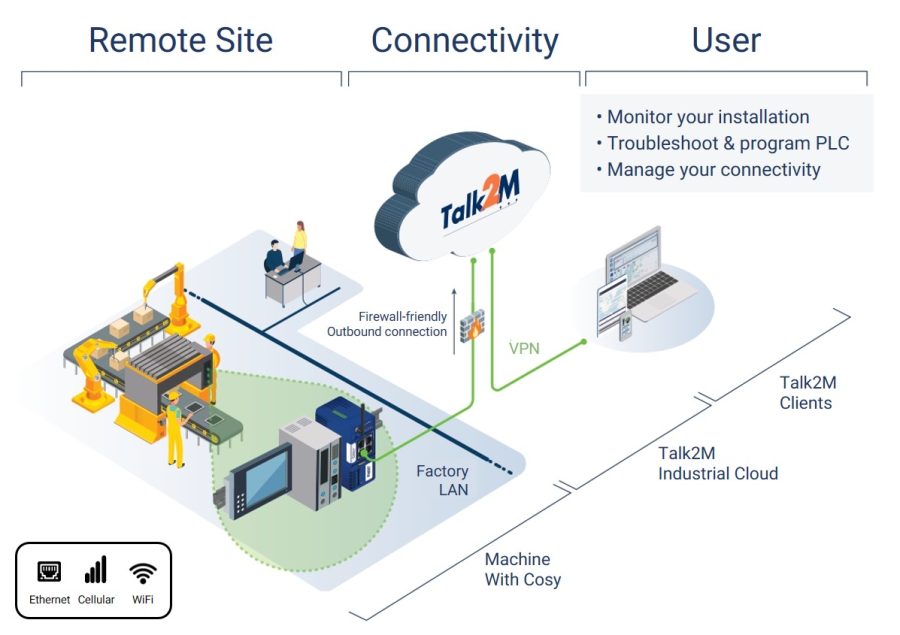 How does the Cosy work ?

The role of the Cosy industrial gateway is to establish a secure VPN connection between the machine (PLC, HMI, or other devices) and yourself, from anywhere, at any time. The connection happens through Talk2M, a highly secured industrial cloud service included for free with the gateway.
Remotely access your PLCs, HMIs or other devices inside the machine, for maintenance or troubleshooting purposes, wherever you are and from any device. Provide effective and sustainable machine support, save time and money while gaining a major long-term competitive advantage!
Security features of the Cosy
Trusted chain from Hardware to the Cloud:
Built-in Secure Element chip, to protect secrets and provide a Hardware Root Of Trust.
Birth certificate, to prevent cloning and counterfeiting.
Secure boot sequence, to ensure that only code signed by Ewon is executed.
Strong encryption of all communications with Talk2M
Proven security posture:
ISO 27001 certification & cybersecurity partnership with NVISO.
Solution based on the latest open standard technologies.
Non-intrusive outbound connections, requiring no change on the existing network.
Machine LAN segregation to ensure that remote users can only access the target equipment.
Traceability of all remote activity through detailed logs and reports.
Local control of the remote connectivity by the end-user, with an external key switch.
Increase safety with the digital output indicating an active remote connection.
Why Flexy ?
Easily acquire and log data
Gather data from PLCs, sensors and other devices thanks to the support of a wide range of industrial protocols, including OPC UA.
Create simple IIoT projects in minutes, not weeks
In a few clicks, enable alarm notifications or performance monitoring through cloud KPIs dashboards.
Do more in the future with built-in connectors and APIs
You might not have a data application today. But when the time comes, be confident in the fact that you can connect to a local or cloud data solution and make your machine smarter.

How does it work?
Our solution focuses on machine builders who wants to stay competitive. That's why our machine builders are obsessed with optimizing every aspect of their operations.
The combination of Flexy, our IIoT data gateway, and Talk2M, the first secure industrial cloud, enables our customers to connect to their machines and collect data from wherever they are deployed.
1. On-Demand Remote Connectivity
Our solution focuses on machine builders who want to stay competitive. They are obsessed with optimizing, automating and growing their business at every level. Therefore, they should always be able to access their machines whenever they need to!
Gain a competitive edge
Over the last ten years, our IIoT solutions have helped machine manufacturers achieve significant ROI. By connecting to their machines, our customers have managed to:
Reduce their operational costs by remotely monitoring and making necessary PLC program changes in a faster and more flexible way.
Keep their staff highly engaged by smartly diagnosing machines' issues. Thanks to our on-demand remote access solutions, our customers have drastically reduced the number of on-site visits and improved the percentage of time their technicians can fix an issue during their first visit (First Time Fix Rate).
Mitigate breakdowns and machine failure risks by remotely supervising, updating and changing parameters on their PLC.
Expand fearlessly on new markets by standardizing remote connectivity on all the machines they ship. No matter where their machines are deployed, our customers can access the PLC, the HMI and any other devices connected on the Ewon LAN.
2. On-premises Data Monitoring
With Ewon Flexy, you can collect pieces of data from any PLC or IO modules installed on your machines and locally store them. By calling on one of the many protocols our gateway supports, you can easily access and visualize the data for monitoring purposes. Also, by keeping all valuable insights into your network, you ensure full data sovereignty.
Turn OT data into valuable insights today!
Our Gateways support numerous proprietary protocols. With its range of extension cards, the Ewon Flexy enables machine manufacturers and operation managers from all around the globe to:
Access data locally stored on an Ewon Flexy and monitor the performances of assets deployed in remote locations.
Securely connect legacy equipment to their local data-, production- or business systems (ERP, MES, Scada, …).
Reduce IT integration and pre-existing network configuration costs of their IIoT projects by calling on the OPC UA capabilities of our Flexy Range.
Optimize machine performances and overall equipment effectiveness (OEE) by monitoring key indicators.
Improve customers satisfaction by detecting anomalies and dysfunctions before they impact the production line.
3. Data Collection for IoT Applications
The combination of Flexy, our data IIoT gateway, with Talk2M, the first Secure Industrial Cloud, enables our customers to connect to their machines and collect data from wherever they are deployed.
Aggregate your OT data in a fast and scalable way!
Centralized cloud data collection is the first step towards your digital transformation. By calling on Talk2M, or any other supported third-party cloud, we help machine manufacturers and system integrators to:
Easily build custom dashboards and provide data visualization.
Learn from data to develop the next generation of machines with an aim at reducing the risk of operational downtime furthermore.
Seamlessly integrate deep-learning, predictive maintenance and other data analytics solutions via our fully documented API's or by calling on widely adopted IoT protocols, such as MQTT.
Develop new business models and offer more services based on operations data.