Tap Position Transmitter TPT-20
Tap Position Transmitter TPT-20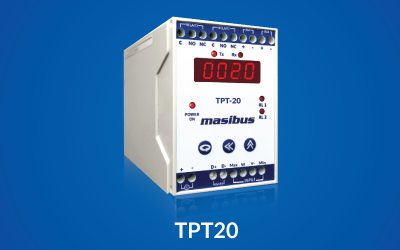 Masibus Model TPT-20 is a 4 wire Tap Position Transmitter that isolates & converts the resistance input corresponding to the tap position of transformer and the Output is Proportional to Tap position of Transformer thus providing Visual and Electrical Output of Tap Position. The analog output can be further connected to RTU, Logger, PLC, Control units etc.
Model TPT-20 accepts the input range of 0-2.5KΩ or 0-25KΩ. A built-in 4 digit Red LED display facilitates the user to monitor the tap position and helps in fast and easy configuration and calibration. Tap number is programmable upto 100 via keypad and tap change-over delay is 1-60 sec field programmable.
Model TPT-20 offers excellent accuracy and stability for reliable operation in hostile environments. TPT-20 has three port Isolation between Input, Output and Power supply.
TPT-20 has optional two relays for alarm purpose along with optional isolated serial communication on RS485 over MODBUS RTU protocol for interfacing with SCADA/PLC, PC based data acquisition and reporting system. Additionally TPT-20 has upto two completely isolated retransmission outputs wherein 2nd output is optional.
Microcontroller based
Compact DIN rail mounting
4 digit Red Digital Display for Tap position
Easy configuration using keys & display
Programmable Tap number upto 100
Dual Isolated Retransmission output
Two Relay Output for Alarm (Optional)
Modbus protocol on RS485 (Optional)
Tap Change counter
Electrical or Energy Management Systems
SCADA
Central Monitoring Systems
OLTC / Power Stations