8/16/24-Channel Scanner / Protection Relay cum Data Logger 85XX+
8/16/24-Channel Scanner / Protection Relay cum Data Logger 85XX+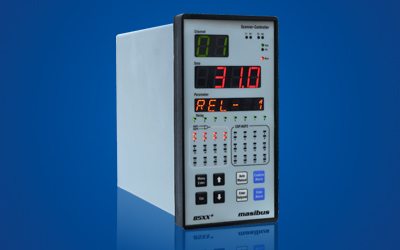 The 85XX⁺ is an upgrade on the most successful model 85XX; additional capabilities have been added by way of multi-serial ports, Ethernet port, Profibus-DP, USB port, scanning speed and alphanumeric display.
Modular and Expandable 
85XX⁺ is modular in architecture and Expandable, 5 I/O slots can accommodate a mix of Analog Input, Digital Input, Open collector output, Analog output or Relay output to suit different applications in Power, water, Pipeline and Infrastructure industries. All field inputs are wired by Pre-Fab cables direct into panel terminals.
Configuration 
85XX⁺ is configured using the mSCAN⁺ software which is very user friendly; the unit can also be edited by front keyboard and display. The unit has numeric and alpha-numeric displays for value and tag display, Alarm/Trip and control status are displayed by discrete LEDs on front fascia.
 Communication 
85XX⁺ comes with one RS485 Port as a standard, a second RS485 Port, Ethernet Port & Profibus DP Port are options to enhance the communication capabilities of the unit and use it as an RTU, Alarm controller or protection device for motors, transformers, etc. It has optional USB port for logged data retrieval.
Alarm Control
8 Relay and 24 OC outputs can be freely mapped as alarm/trip or control set point.
Analog Output 
An isolated 4-20mA Re-transmission output option is available for onward transmission to PLC/DCS/Recorder/SCADA. Max 8 output per card is possible.