Wireless Clock System DDU24/26, DDU44/46 & MC-2
Wireless Clock System DDU24/26, DDU44/46 & MC-2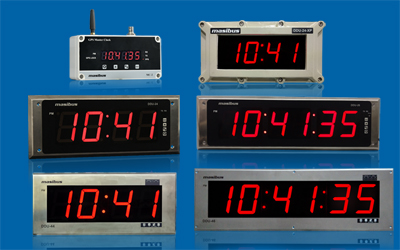 Wireless Clock System MC-2 Master Clock and DDU-24/26, DDU-44/46 Slave Clock is a perfect solution for a wide range of applications where accurate, synchronized time is required over wireless. It displays parameters like Time and Date.
Wireless Clock System eliminates wiring and reduces installation cost and also allows a retrofitting of an existing installation in a convenient way. Each clock can work as Slave cum repeater that helps to extend the network range. The Wireless system allows multiple Slave clocks to work on same/multiple frequency range and can retransmit without interfering with other wireless products.
Frequency hopping technology is available for error free communication in case of interference from some wireless device on some particular communication frequency.
Masibus Wireless Clock System also has more options of wired RS232 or RS485 Connection and NTP other than RF wireless connection to sync with GPS Master Clock.
Wireless Clcok System MC-2 and DDU-24/26, DDU-44/46 works on Time protocols like (NGTS, NMEA and T-Formats) for wired Connection. DDU-24/26, DDU-44/46 also available with NTP [Network Time Protocol] with PoE [Power Over Ethernet] option. The DDU-24/26, DDU-44/46 has built-in Battery backed RTC which maintains time in case of loss of power and communication break.
DDU-24/26, DDU-44/46 Slave Clock is specially designed with SS faceplates, Modular wall mounting compatible for Pharma & Clean room requirement. The rugged Mild Steel case with Front Soft Steel makes DDU-24/26, DDU-44/46 ideal for demanding industrial environments and elegant look. Flush LED display of DDU-24/26, DDU-44/46 offers a wide angle viewing. Time and Date Display are available in Flush Mount, Panel Mount & Wall mount versions.
DDU-24-XP is for use in Zone 1 and 2 of Gas group IIA and IIB Hazardous areas. The enclosure is also IP-65 certified.
MC-2 Master Clock is designed in ABS Enclosure with Wall Mount or Table Top provision.
Features
MC-2
Receives automatic time from network of GPS satellites
Transmits the time to clocks through RF or Serial
Synchronization of Server time system through RS232/ RS485
6 digit 0.56" (14mm) LED Display
Status LED indications
Compact ABS plastic Enclosure along with Antenna
Table-top or Wall-mount option
DDU-24/ 26 or DDU-44/ 46
4 digit, 2.3" (57mm), Large LED Display for DDU-24

4" (100 mm), Large LED Display for DDU-44
6 digit, 2.3" (57 mm), Large LED Display for DDU-26
4" (100 mm), Large LED Display for DDU-46

Best suited for clean room applications
Each clock can act as Repeater to extent network range
Works in stand-alone mode if network fails
Wall Mount, Panel Mount or Flush mount option
DDU-24/DDU-26 is also available in Ex-proof Enclosure for gas group IIA and IIB (IP65)
Optional NTP [LAN Interface] with IEEE 802.3af compliant PoE
MC-2 and DDU-24/ 26, DDU-44/ 46
Option to communicate on RF(866 MHz Freq.) or Serial
Use of unlimited slave clocks within transmitter's range
Multiple serial time frame Inputs Multiple serial time frame Inputs

NMEA-0183[RMC] / NGTS/ T-Format

Retains time during loss of power/time code
Manual Time Setting(In case of GPS Failure)
International Time Zone option
12 Hour and 24 Hour Time Format
Time and Date Display (Front keypad selectable)
Communication loss indication
Universal Power Supply
Applications
Synchronization with GPS System in
Pharmaceutical Industry and Process Industry
Factory/Offices/Warehouse/Canteen/Cleanroom
School/College/Healthcare units[hospital, Laboratory]