Programmable AC Current/ Voltage Transducer
Programmable AC Current/ Voltage Transducer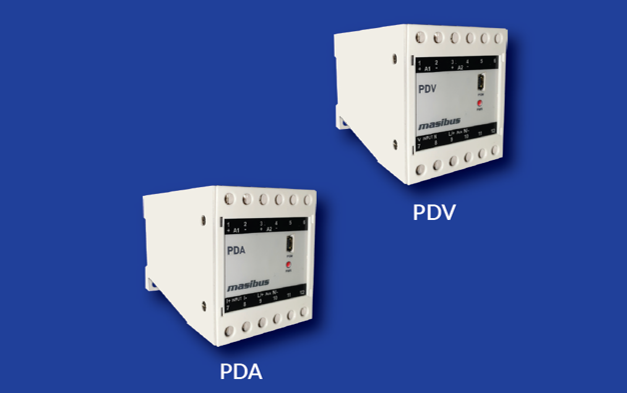 The Masibus PDA / PDV is used to measure and convert AC current or voltage input into a load independent DC current or voltage output signal. Output signal generated is proportional to the root mean square value of the input current or voltage.
It is equipped with two load-independent, galvanically-isolated analogue outputs that can be configured for different input range and output curves.
AC transducer offers an economical and accurate means of current & voltage measurement on systems where transducers are calibrated to true RMS measurement. AC transducers are having its application to interface with RTUs.
Masibus make transducers are also available with dual output option. It provides accuracy class 0.2 with up to 3 KV isolation. All transducers performs with exceptional accuracy, repeatability and reliability. In addition to being most accurate, our transducers are equally preferred by OEMs/ end users to other makes for their excellent stability over a long period of operation. This world class technology now comes to you at a very competitive price.
Features
High accuracy class 0.2
Confirms to IEC 60688
True RMS measurement
Long range, site-configurable inputs & outputs
Onsite selectable output type (DC current / DC voltage)
Load-independent accuracy on all outputs
Available in single or dual output type
Programming port for easy configuration
Fast response
Excellent long-term stability
Good isolation & impulse resistance
Transient protected
DIN-Rail mounting
Applications
Generating/transmission distribution stations
Building management
Load dispatch center
Power equipment's OEMs
HT/LT panels
Substation automation
SCADA
Local and central monitoring systems
Industries
Power Distribution industries
Cement Industries
Chemical Industries
Metal Industries
Paper Industries
Sugar Industries
Ceramics Industries
Paper and Pulp Industries
Panel Builders