Digital Display Unit DDU-XX
Digital Display Unit DDU-XX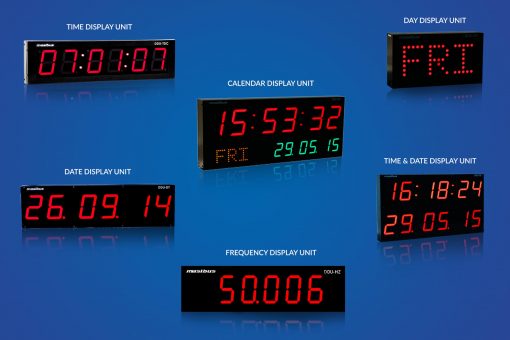 Masibus Digital Power Display Unit DDU-XX Slave Clock a versatile, multi-featured code driven Digital Display Clock for NTP Servers. It displays parameters like Time, Date, Day and Frequency. This Digital Display Clock for NTP Servers decodes and displays all Time protocols like IRIG-B modulated/ TTL, NTP (Ethernet) and Serial (NGTS, NMEA and TFormats). IRIG-B decoding supports the 1 KHz modulated format (B12x) and the TTL format (B00x).
The Digital Display Clock for NTP Servers has built-in Battery backed RTC which maintains time in case of loss of power and communication break. Redundant Input option is available for critical installations.
The 100mm large display can be viewed from a distance of over 50m.
The rugged aluminum case makes DDU-XX GPS based Slave Clock ideal for demanding industrial environments. Flush LED display of DDU-XX Slave Clock offers a wide angle viewing. Time, Date, Day & Frequency Displays are available in both Panel & Wall mount versions. Day Display is of Dot Matrix LED type.
Features
4" (100mm) Large Display
Multiple time frame Inputs

NMEA-0183[RMC] / NGTS/ T-Format
NTP Protocol
IRIG-B Modulated
IRIG-B TTL

Retains time during loss of power/time code
Wall/ Rack/ Table-Top Mounting for IP20 Enclosure
Wall/ Hanging-Type Mounting for IP65 Enclosure
Universal Power Supply
Manual Time Setting
Configurable International Time Zone
Remote time monitoring
4 level Brightness control
Applications
Synchronization with GPS System in Electrical utilities:

Generation
Transmission
Energy and Demand monitoring
Distribution Interface with SCADA/RTU
EMS system
Reference Clock in Transportation Facilities
Reference Clock for Manufacturing Plants
Industries
Renewable Energy
Transportation Industry
Oil and Gas Industry
Healthcare Industry
Banking and Finance Industry
IT Networks and Data Center
Cement Industry
Chemical Industry
Fertilizer Industry
Paper Industry