GPS Time Sync Units MC-1-DE & MC-1-DH
GPS Time Sync Units MC-1-DE & MC-1-DH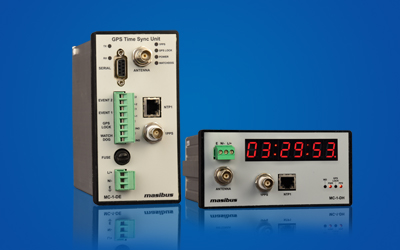 Masibus GPS Master Clock MC-1-DE & MC-1-DH are the most compact and accurate Time Synchronization Units developed for various industries like the Power and Process industry. It has the options of various output types, required for interface with various systems and devices.GPS Master Clock MC-1-DH model has 7-segment LED display (date/time configuration). The unit is constructed in a form factor suitable for DIN Rail, Wall mount or Panel mount option. GPS Time Sync Unit is designed for Reliability and provides base time accuracy of 150nsec.
GPS Time Sync Unit supports time code and pulse signals complying with standards like RS232/485 serial, PPS, IRIG-B, NTP, these outputs have ample drive capability to drive multiple loads in parallel and its parameters are fully configurable. The GPS receiver has built-in RTC backed up with on board battery to maintain time during power loss and instant recovery on power resumption. It also has very low ppm crystal to maintain accurate time when GPS signal is lost.
GPS Time Sync Unit has discrete LEDs that provide at-glance status and health information. Parameters like IP, gateway and subnet mask are programmable through Ethernet port. MC-1-DE is also programmable via hyper terminal on the serial port
In case of more than one Ethernet port, each port is individually programmable only for network related parameters.
Masibus has four decades of design experience and has supplied hundreds of GPS clocks for the most demanding applications in the power and process industries. Masibus clocks have been successfully interfaced with all types of devices like DFR, SOE, Relays, PLC, DCS, IEDs, servers and many more.
Features
Cost effective solution
Compact DIN Rail /Panel/Wall Mount Enclosure
6 digits, 0.56″ 7-segment LED Display for Time/Date in MC-1-DH model
12 Satellite parallel tracking
Universal (AC/DC) Power supply input
Supports synchronization of IEC61850 compliant devices via NTP/SNTP protocol
All weather water proof antenna
Synchronization software for Server & Client
Optional Diagnostic Relay outputs (Watch dog, GPS Lock)
Solid state relay for programmable event
Supporting Protocols:

IRIG-B Modulated
IRIG-B TTL
SNTP/NTP
NMEA/ T-Format/ NGTS
Applications
Sequence of event recorders
Disturbance recorders
Numerical relays
PMU a Synchrophasor measurement
UNIX, Linux & Windows servers
Slave clocks PLC/DCS/SCADA
ABT metering
UNIX, Linux, Solaris & Windows servers
PLC/DCS/SCADA
EMS system
Slave Clocks
Industries
Renewable Energy
Transportation Industry
Oil and Gas Industry
Healthcare Industry
Banking Industry
Finance Industry
IT Networks and Data Center
Cement Industry
Chemical Industry
Fertilizer Industry
Paper Industry