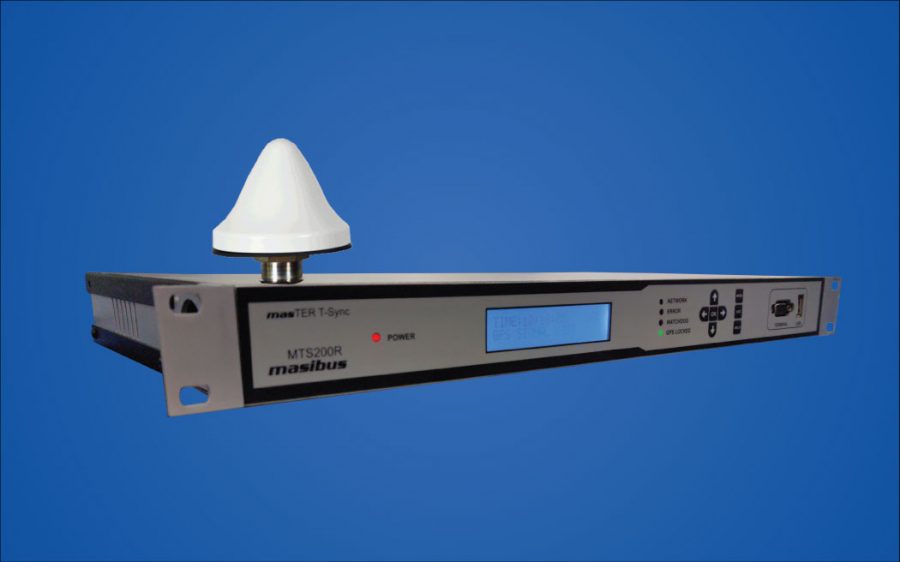 Masibus masTER Time-Sync MTS200R is Redundant time server and capable to serve time synchronization requirements in various industries like power, process, Datacentres and IT Networks, telecom, Oil and Gas, Cement, Paper, Chemical, Fertilizer, Security and Surveillance etc. MTS200R is a Network time server housed in a compact and modular 19″ 1U rack monted package that can accomodate all power supply, CPU, clock as well as multiple timing output card.
Masibus MTS200R is a GPS/GLONASS based time server has redundant and non-redundant options.When considered with redundant option, provides complete redundancy over Power supply and GPS receiver functionality for reliable and continuous operation. CPU card has intelligent switching facility capable of handling GPS receiver redundancy logic along with each clock card healthy LED indication. MTS200R has a 20 x 2 LCD display for viewing of time parameters, status of GPS receiver parameters and discrete LEDs provide at-a-glance status and health information. In addition to above, it provides flexibility to choose from available different output card options like 1PPS, IRIG-B TTL (DCLS) / IRIG-B Amplitude Modulated , NTP/SNTP, Serial NMEA frame over RS232/RS485, Event/Relay, IEEE 1588 PTPv2, Pulse FO, 2.048 MHz frequency (E1) output, Frequency deviation output over RS485. MTS200R GPS Master clock is TCXO/OCXO based built-in RTC backed up with on board rechargable battery to maintain time during power loss and instant recovery on power resumption. MTS200R can provide maximum 12 number of timing output based on the choosen configuration.
Network Time Protocol (NTP)
MTS200R is a Stratum1 NTP Server/SNTP Server for synchronizing all types of NTP and SNTP clients in LAN. NTP v2/v3 and v4 with all modes (Unicast / Broadcast / Multicast) and NTP related all necessary MD5 authentication mechanisms are supported in this device. It is also capable to record and log internal CPU clock drift and accuracy statistics and displays it graphically on MTS200R webserver. It can also synchronize IEC61850 devices using SNTP.
Precision Time Protocol (PTP)
MTS200R will also work as a IEEE 1588 PTP Grand Master (PTPv2 Time server). It support default profile, Power Profile (IEEE C37.238-2011, IEEE C37.238-2017) and Power Utility profile (IEC 61850-9-3). Works on a BMCA (Best Master Clock Algoritham) algoritham in case of multiple master. It can also be referred as Precision time server.
MTS200R GPS Time synchronization unit which supports IRIG-B 00x and IRIG-B 12x timing output. It also supports 2.048Mhz (75 ohm interface confirming to ITU-T G.703) synchronization interface to meet the time synchronization requirement of the communication system.
Networking Protocols
MTS200R GPS network time syncronization unit supports a full suite of networking protocols for its own administration and configuration management. These are IPv4/v6, TCP, UDP, DHCP, HTTP, HTTPS, SNMP, SSH, SCP, SYSLOG, TELNET.
Security Features
MTS200R provides secured access for configuration and management through SSH, SCP, HTTPS. Full featured SNMP protocol with encryption DES/AES and authentication SHA/MD5 mechanisms. User accesses for Console and web program are encrypted password supported.
User Friendly Setup and Administration
MTS200R is simple to install and easy to manage. Front panel controls allows network configuration and other set-up parameters. DHCP and IPv6 AUTOCONF feature capability makes MTS200R easy & ready to use on site network. Further, MTS200R can be completely configured remotely through Webserver, SSH, SNMP, Telnet & Serial port. MTS200R can send notifications regarding various internal alarms to remote servers through SYSLOG and SNMP as well as logs it internally for future reference.
Major application in time synchroniation is Substation automation, network servers and relays.
Features
12 Satellite parallel tracking
GPS based time Server available in Redundant & Non-Redundant Options
Ethernet Ports
NTPv2/v3 and NTPv4 with MD5 authentication & symmetric and autokey management
Secured Web server
IPv4, IPv6, UDP, SNMP, SSH, SCP, HTTP, HTTPS, SYSLOG, Telnet,FTP, Networking protocols
Remote Alarm notifications via SNMP, SYSLOG
Remote configuration using SSH, Web, SNMP, Telnet
Universal Time-zone and DST Settings
Supports synchronization of IEC61850 compliant devices via NTP/SNTP protocol
USB Port
Universal (AC/DC) Power Supply
Highly accurate TCXO Type crystal (OCXO Optional)
Programmable Pulse Outputs
Solid State relays for programmable events
NTP Client Synchronization software
Diagnostic Relay outputs

Supporting Timing Protocols:
NMEA [GPRMC, GPZDA, GPGGA], NGTS, T-FORMAT
IRIG-B Modulated
IRIG-B TTL
SNTP/NTP
PTPv2

2.048 MHz frequency output (ITU-T G.703 Standard)
FDM (Frequency Deviation Monitoring)
Applications
Sequence of Event recorders, Disturbance recorders, PMU
Numerical relays, Slave clocks
UNIX, Linux, Solaris& Windows servers
PLC/DCS/SCADA, ABT metering
Telecommunication, Synchrophasor measurement
EMS system, Fault locator
Industries
Power Industry
Transportation Industry
Oil and Gas Industry
Healthcare Industry
Banking Industry
Finance Industry
IT Networks and Data Center
Cement Industry
Chemical Industry
Fertilizer Industry
Paper Industry