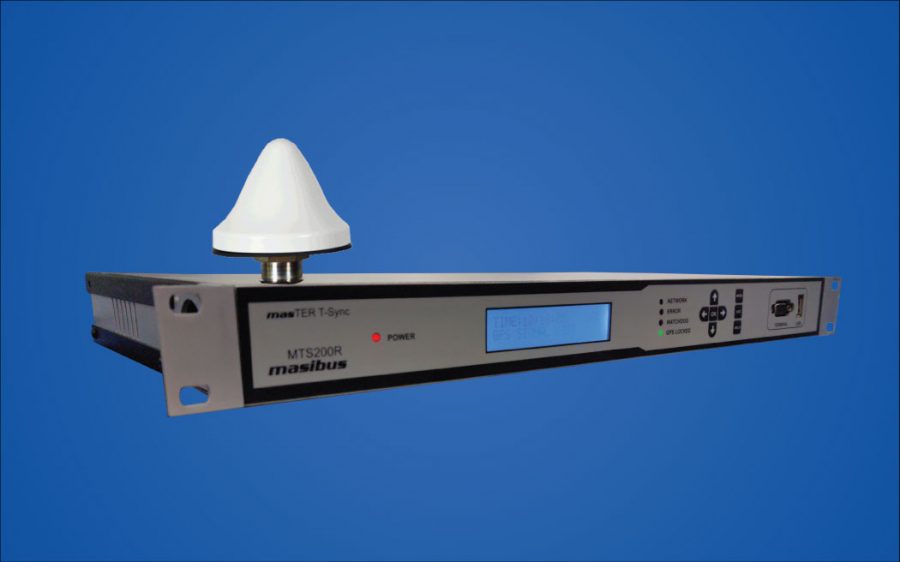 Masibus masTER Time-Sync MTS200R is capable for the time synchronization requirements in various industries like power, process, IT, telecommunications etc. It generates wide range of time code and pulse signals via different output ports like 1PPS, IRIG-B TTL/AM, NTP, Serial (RS232/RS485), Event/Relay, PTP, Pulse FO.
Masibus MTS200R a GPS based time server has redundant and non-redundant options for Power supply and GPS receiver functionality. MTS200R has a 20 x 2 LCD display for viewing of time parameters, status of GPS receiver parameters, and output ports, discrete LEDs provide at-a-glance status and health information. The GPS receiver has built-in RTC backed up with on board battery to maintain time during power loss and instant recovery on power resumption.
Network Time Protocol (NTP)
MTS200R is a Stratum1 GPS based full featured NTP Server for synchronizing all types of NTP and SNTP clients in LAN. NTP v2/v3 and v4 with all modes (Unicast / Broadcast / Multicast) and NTP related all necessary MD5 authentication mechanisms are provided in this device. It is also capable to record and log internal CPU clock drift and accuracy statistics and displays it graphically on MTS200R webserver.
Networking Protocols
MTS200R supports a full suite of networking protocols for its own administration and configuration management. These are IPv4/v6, TCP, UDP, DHCP, HTTP, HTTPS, SNMP, SSH, SCP, SYSLOG, TELNET.
Security Features
MTS200R provides secured access for configuration and management through SSH, SCP, HTTPS. Full featured SNMP protocol with encryption DES/AES and authentication SHA/MD5 mechanisms. User accesses for Console and web program are encrypted password supported.
User Friendly Setup and Administration
MTS200R is simple to install and easy to manage. Front panel controls allows network configuration and other set-up parameters. DHCP and IPv6 AUTOCONF feature capability makes MTS200R easy & ready to use on site network. Further, MTS200R can be completely configured remotely through Webserver, SSH, SNMP, Telnet & Serial port. MTS200R can send notifications regarding various internal alarms to remote servers through SYSLOG and SNMP as well as logs it internally for future reference.
Features
12 Satellite parallel tracking
GPS based time Server available in Redundant & Non-Redundant Options
Ethernet Ports
NTPv2/v3 and NTPv4 with MD5 authentication & symmetric and autokey management
Secured Web server
IPv4, IPv6, UDP, SNMP, SSH, SCP, HTTP, HTTPS, SYSLOG, Telnet,FTP, Networking protocols
Remote Alarm notifications via SNMP, SYSLOG
Remote configuration using SSH, Web, SNMP, Telnet
Universal Time-zone and DST Settings
Supports synchronization of IEC61850 compliant devices via NTP/SNTP protocol
USB Port
Universal (AC/DC) Power Supply
Highly accurate TCXO Type crystal (OCXO Optional)
Programmable Pulse Outputs
Solid State relays for programmable events
NTP Client Synchronization software
Diagnostic Relay outputs

Supporting Timing Protocols:
NMEA [GPRMC, GPZDA, GPGGA], NGTS, T-FORMAT
IRIG-B Modulated
IRIG-B TTL
SNTP/NTP
PTPv2
Applications
Sequence of Event recorders, Disturbance recorders, PMU
Numerical relays, Slave clocks
UNIX, Linux, Solaris& Windows servers
PLC/DCS/SCADA, ABT metering
Telecommunication, Synchrophasor measurement
EMS system, Fault locator