Universal Transmitter UT-94
Universal Transmitter UT-94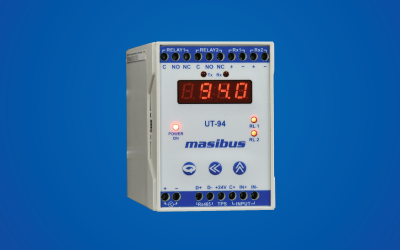 Masibus Model UT-94 is a 4-wire universal transmitter that isolates & converts wide range of conventional / unconventional process inputs into standard process signals acceptable to commercially off the shelf (COTS) automation products. Signal inverting option is also available. The input circuit can accommodate a variety of input signal levels including bi-directional, reverse, true and live-zero.
A built in 4 digit display facilitates the user to monitor process value and helps in fast configuration and calibration. Model UT-94 enables analog signals to transmit without galvanic connections between the fields to the receiving instrument. This in turn allows ground or reference levels to float up to thousands of volts at its input terminals, and prevents circulating current between differing ground potentials that can contaminate input signal.
Isolation provided by Model UT-94 saves the control system from damage due to accidental application of high voltage or induced voltages on the input signal and in turn avoids wrong output signals to process. Isolation provides a good protection for sensitive system parts against voltage spikes etc.
Model UT-94 offers a wide range of input/ output signal types include mA, mV, V, RTD, TC, Resistance. Built-in transmitter power supply (TPS) can drive field transmitters in case of 4-20mA DC input. It offers excellent accuracy and stability for reliable operation in hostile environments and full isolation safely separates each input channel, each output channel and the power supply.
Model UT-94 is equipped with advanced functions like digital filtering, password setting, input and output protection and square root function for optimum process functionality. It has optional two relays for alarm purpose along with optional isolated serial communication on RS485 over MODBUS RTU protocol for interfacing with SCADA/PLC, PC based data acquisition and reporting system. Additionally UT-94 has upto two completely isolated retransmission outputs wherein 2nd output is optional.
Features
Compact DIN rail mounting
Digital Display
Easy configuration using keys & display
Micro controller based transmitter
Measuring Parameters: RTD, TC, mV, V, mA, Ω
Upto Two Retransmission output
Two Relay Output (Option)
Modbus protocol on RS485 (Option)
Square Root Extraction for Linear input type
Applications
Industrial process control
Factory automation
SCADA
DAS
Heat treatment furnaces
Reheat furnaces
Ceramic Kilns
Glass Industry
Water and waste water control
Industries
Cement
Glass
Oil & Gas
Paper
Pulp
Fertilizer
Chemical