Flame Proof Vibration Switch VSW-160
Flame Proof Vibration Switch VSW-160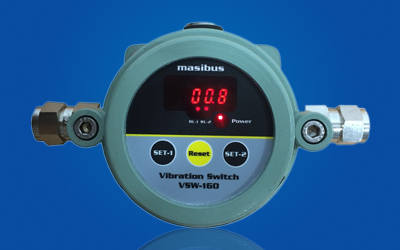 **Patented design for K/B interface in FLP-Proof enclosure
Vibration Switch provides essential protection for critical fans, pumps, motors and other industrial machines. It measures the vibration to which it is exposed and generates relay output when vibration exceeds the preset threshold values.
The Vibration Switch VSW-160 is well equipped for rotating machine protection applications. It offers bright 3½ digit display, precise 4-20mA analog output and one relay output with status indicator resulting in three-in-one product. Set point setting for relay output is user configurable. Remote sensor mounting gives better performance and higher temperature compliance.
Reliability is ensured by our ISO 9001 approved quality control system from UL labs. Masibus is quality manufacturer of vibration switch having various features and ranges.
Vibration Switch VSW-160 is a strategic tool for protection of machines which measures online vibration and provides relay output for operator alarm or machine trip purpose. Vibration is displayed and alarm is generated when vibration is abnormal. Once alarm is generated, machine data can be analyzed for the root cause of increased vibration. This provides an opportunity for early fault detection.
Vibration is monitored in terms of r.m.s. and peak. When overall vibration is to be measured, r.m.s. and peak measurement technique is considered best for general machine health.
Vibration Switch makes online vibration monitoring cost-effective with its optional retransmission analog output which can be connected to plant RTU / PLC / DCS systems.
Masibus has a proven track record of manufacturing online process monitoring instruments for over 3 decades.
Usability
3 in 1 Vibration Transmitter – Display – Switch
Bright 3½ – digit LED display
Vibration range available upto 50mm/S
Relay & analog output
Excellent long-term stability
Easy configuration from front keys
Set value switch
Local/ Remote mounting provision for high temperature application
Balance of Plant Vibration measurement and protection
Cooling Towers
Pumps
Motors
Gear Boxes
Blowers
ID/ FD/ PA Fans
Air Compressors
Conveyors