Bar Graph Indicator 40005E
Bar Graph Indicator 40005E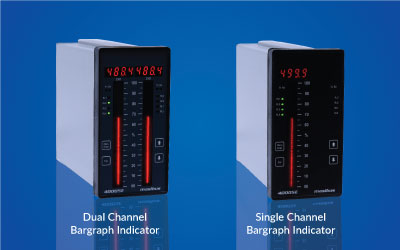 The 40005E is an Enhanced version of our Legacy model 40005 Bargraph indicators, additional capabilities have been added by way of multi-serial ports, scanning speed and Relay outputs. The model is available in single channel and dual channel format.
Configuration
40005E is configured using the front keyboard and display or PC based mbGRAPH Configuration Software supplied with unit. The unit has a 4 digit numeric and 101 segment Bars to display process Value, Alarm/Trip and communication status are displayed by discrete LEDs on front fascia.
Communication
40005E comes with one RS485 port as a standard, a second RS485 port as an option to enhance the communication capabilities of the unit and use it as an RTU, controller or protection device for parameters like Level, Vibration, Gas detection, etc.
Control or Alarm
An optional 4 Relay outputs can be freely mapped to any channel set points and configured as control, Alarm or Trip functionality with Fail-Safe or Normal Logic. Any one relay can also be configured as a watchdog output.
Analog Output
An isolated 4-20mA Re-Transmission output option is available for onward transmission to PLC/DCS/Recorder/SCADA
Enclosure
40005E is housed in a 144X72 mm extruded Aluminum enclosure with an IP54 front fascia. All field inputs are wired to a detachable back plate for ease of wiring and reduce down time during replacement
Features
Micro controller based
Full 4 digit numeric & 101 segment bar display
Universal Input
Square root extractor
Fully configurable & programmable by front keypad or PC based mbGRAPH Configuration Software
Digital calibration
Watchdog output
Power Supply, Input & Output Isolated for 1500VAC
Built-in Transmitter Supply
Options :

Analog output (Isolated)
Redundant RS485 serial port 4 Relay Output
Applications
Monitoring of Level, Vibration, Flow, etc
Alarm/Trip Unit
On/off Controller
Digital Switch
Gas Detection
Marine-Utility Monitoring on Ships