NTS20 Network Time Server (For IT, Surveillance and Automation System)
NTS20 Network Time Server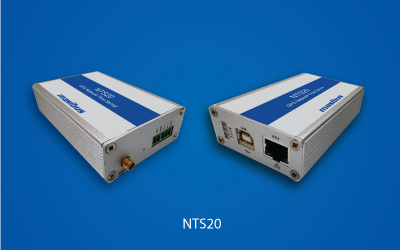 NTS20 Network Time Server is an accurate, low cost, extremely compact Din Rail mount GPS for network time synchronisation.
Network Time Server takes the time from GPS satellites and provide accurate time output over NTP protocol, to synchronize slave devices with 1 milliseconds accuracy or better with respect to universal UTC time. NTP is an "open source" (royalty free) time synchronization distribution and this feature is freely/already available in computer servers with different OS support, IP Cameras and NVR's.
NTS20 is a compact Time Server having time signal output like NTP used for time synch applications. It is having USB port for Configuration. NTS20 NTP server provides accurate reference time signals for synchronisation of security related applications that includes time synchronisation of DVR and NVR, servers, access control servers, operator workstations, and even IP cameras. More general applications include time-synchronisation of Windows, Mac and Linux PCs and servers.
NTS20 Network Time server is supplied with GPS Magnetic Antenna with built in LNA. It is supplied with 3 meter of RG174 cable terminated with an SMA male connector. It can be fixed to any window which has a clear view of the sky. Optionally Roof top antenna and antenna cable with extended length is provided if required. NTS20 Network Time server can be powered up over the network by PoE or by a 5V DC power supply.
Features
Accurate, Compact Network Time Server
12 Satellite parallel tracking
USB port for Configuration
PoE option
Supporting Timing Protocols:
NTP v2/v3 With MD5/SHA Authentication
IPv4, UDP, TCP, SNMP, HTTP,Telnet networking protocols
Remote Alarm notification by SNMP
Applications
Time Synchronization of

Various security devices such as IP Camera, CCTV, DVR, NVR, biometric identification devices, Access control system
Microsoft Windows, Linux, Servers/Clients, workstations and network infrastructure
Automation Systems, SCADA, Network Monitoring and Control Systems (PLC/DCS)
Industries
Security and Surveillance Industry
Automation Industry