Universal Calibrator uCAL UC12
Universal Calibrator uCAL UC12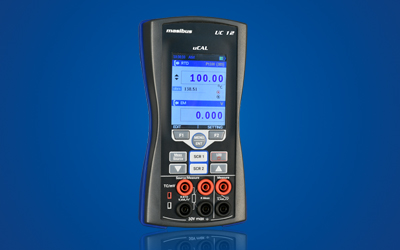 Universal Calibrator uCAL model UC12  is the compact, rugged and easy to use hand held device with graphical user interface for precise measuring and sourcing of electrical and physical parameters
Universal Calibrator UC12  is designed to provide the best accuracy in all modes of operation.
Universal Calibrator UC12 has Source and Measurement capability with independent parameter and range selection for Source and Measure. UC12 has mA/ V/ mV/ mA (24V)/ Switch-test / RTD/ TC/ Frequency/ Pulse measurement capability and also has mA/ V/ mV/ mA (2W)/ Resistance/ RTD/ TC/ Frequency/ Pulse source capability.
There is an isolation between measure and source/ measure sections.
Universal Calibrator UC12 or has easy to operate short cut keys SCR1 and SCR2 for input selection for measure and source/ measure respectively.
Automatic step/ramp output with Auto/Man selection, data logging, Max/Min/Average values, scaling to Engineering units and filter settings enhances the use of Multifunction Calibrator.
It has been designed to give maximum Battery life on full charge, the backlight is adjustable for power saving and the display can be programmed to automatically enable the glance screen when not in use
Universal Calibrator UC12 comes with a Mini USB connector for charging, logged data retrieval and firmware upgrade. Standard accessories provided are patch cables, charger, USB cable, instruction manual, logged data retrieval software CD and calibration certificate, all in an attractive carrying case.
Compact, handheld, User friendly menu
Easy to read Color Graphical TFT LCD display
Rechargeable lithium Ion battery with enhanced power control for prolonged battery life
Measure: mA/ V/ mV/ mA (24V)/ Switch-test / RTD/ TC/ Frequency/ Pulse
Source: mA/ V/ mV/ mA(2W)/ Resistance/ RTD/ TC/ Frequency/ Pulse
24 VDC Loop power Supply to power transmitters and loops
Step/Ramp functions with Auto/Man selection
Universal Serial Bus (USB) communication port for charging, data retrieve and firmware upgrade
Data Logging to measure long time drift
Other Features: Max/Min/Average, filter settings, tare facility, adjustable backlight, alarm annunciation (on
isplay and buzzer), glance screen mode
Continuity Test
Pulsed RTD transmitter compatible
HART loop resistor
Calibrating and checking temperature indicator/ controllers, recorders, temperature transmitters, single conditioners, etc.
Laboratory and Site calibration purpose
Drift test of Transmitters and Transducers
Simulation of resistance for position indicators
Sources mV signals for load cell amplifiers
Check flow measurement instruments vide frequency/ pulse parameters