Multifunction Power & Energy Meter 2160-A
Multifunction Power & Energy Meter 2160-A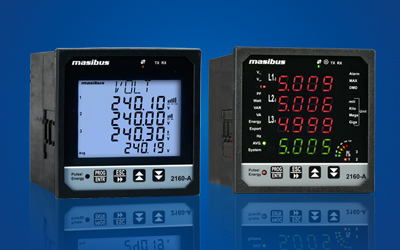 Multi Function Panel Meter 2160-A is an easy-to-use, cost effective electrical energy meter that offers all the basic measurement capabilities required for monitoring an electrical installation.
Multi Function Panel Meter 2160-A is available in three display options either 16 x 4 LCD or bright LED or large multi-line backlit LCD panel for superior readability in poor lighting conditions. It provides four parameters display at a same time.
Based on field requirement 2160-A offers various accuracy class options like Class 0.2s / Class 0.5s accuracy as per IS14697/ IEC 62053-22 and Class 1.0 accuracy as per Is13779/ IEC 62053-21.
The CT/PT ratio and installation type are site selectable, making it possible to use the meter in various types of three phase installations.
Multi Function Panel Meter 2160-A provides four-quadrant energy measurement along with ON (working) hour, RUN (Load) Hour, thus helping to measure and control energy cost.
More than basic metering, it optionally provides RS485 port supporting Modbus-RTU protocol, RJ45 port supporting Modnet protocol, THD measurements, Maximum Demand and Programmable pulse output.
Along with Maximum Demand option 2160-A can store Power Interruption count with (Last Power OFF & Latest Power ON) Time & Date
Meter stores energy and programmed parameters into non-volatile memory.
Available in Accuracy class 1.0 as per Is13779/ IEC 62053-21
Optional Accuracy class 0.5s or 0.2s as per IS14697/ IEC 62053-22
Field programmable CT/PT primary & secondary values
True RMS measurement
More than 100 Electrical parameters
4×16 LCD with back-lit OR Optional 4 lines 4 digit high-visibility LED display 0.4" [10mm] to display various parameters OR Optional large multi-line backlit LCD panel
Isolated RS485 (Modbus-RTU protocol)
Digital pulse output for energy
Auto Scaling from Kilo to Mega to Giga watt
Auto Scrolling feature for easy readability for all parameters
Favourite page Store feature
Store energy register efficiently during power failure.
Four Quadrant measurement for PF, Power & Energy (Active & Reactive).
ON Hour, LOAD HOUR & IDLE HOUR register in Non-Volatile Memory
Password Protection for set parameters
Control & Relay Panels
Motor Control Center Panels
Power Control Center Panels
Process Control
DG Set panels
Original Equipment Manufacturers (OEMs)
HVAC & Building Management System
Energy Management System (EMS)
HV & LV Switchgear Panels